by Nagesh Havanur
4/26/2021 – ChessBase Magazine offers a window to the world of professional chess and it also provides arsenal for the tournament player. With this bi-centennial issue it has reached a landmark. GM Rainer Knaak recalls the memorable journey with some nice videos. Then we are back to tournament preparation. This issue offers games from three major events, Tata Steel 2021, Skilling Open and 73rd Russian Championship Superfinal. 413 games, 3 opening videos, 11 opening surveys, demo. lectures and exercises for training. It also includes games annotated by Wesley So, Anish Giri, Van Foreest, Jan Duda, Vladimir Fedoseev, Nikita Vitiugov to mention a few. Prof. Nagesh Havanur takes a look.
---
ChessBase 16 – Mega package Edition 2021

Your key to fresh ideas, precise analyses and targeted training!
Everyone uses ChessBase, from the World Champion to the amateur next door. It is the program of choice for anyone who loves the game and wants to know more about it. Start your personal success story with ChessBase and enjoy the game even more.
Nostalgia rules
I have an old rule, "Do not praise friends in public." This time I am making an exception. ChessBase Magazine has scored a ton and importantly it has survived the pandemic. Both call for a little celebration. Incidentally, I still remember the First Jubilee issue on scoring a 100. The videos were fun. A couple of them are back here with GM Rainer Knaak and Founder-Editor, Frederic Friedel going down the memory lane. Sit back and smile, though our Gen. Next may thumb their noses at the quality of the videos. Back in 1990s the digital revolution in technology had not taken place yet. So one has to make allowances.
Old timers would recall one encounter that had everyone amused. This was the decisive game between Garry Kasparov and Viswanathan Anand at the end of the Credit Suisse Rapid Tournament, Geneva in 1996. Both players had finished with the same number of points. So a blitz match of two games was arranged between the two. In the first game Vishy played the King's Indian Defence (!) to the chagrin of Garry. Annoyed by the impertinence of the young talent playing his "own" defence, Garry could only draw the game. In the second game he was determined to teach Vishy a "proper lesson". Here is what happened:
[embedded content]
Now for a detailed view:
An entertaining game in which both players showed great fighting spirit.
A proud moment for Dutch fans
This brings me to the reports on the tournaments covered in this issue. As is known, the main event of the Tata Steel Tournament was won by Jorden van Foreest and Anish Giri ahead of Esipenko, Caruana, Firouzja and Carlsen with a score of 8.5/13. For the Dutch fans this was a proud moment as their players had won the tournament at Wijk aan Zee 36 years after Timman's historic victory way back in 1985.
It was only in the Armageddon Match that Jorden van Foreest prevailed over his compatriot. I didn't find the games from the mini-match in this issue. Probably they would find their way in the next issue. However, for the sake of completeness, I am offering those games here itself.
Magnus did not do himself justice in the tournament. He was bogged down by some draws and a painful loss to Esipenko.
However, he had every reason to be proud of the following game.
Photo: Jurriaan Hoefsmit
The organizers went all out to make this tournament. It's a pity that it was held in an eerie atmosphere without spectators on account of Covid-19 restrictions. No celebration and fun this time. Hopefully, one would find that ambience in the tournament next year.
Nepomniachtchi scores
In creative and sporting terms the 73rd Russian Championship was even better. The race for the prestigious title was between three contenders, Ian Nepomniachtchi, Sergei Karjakin and Daniil Dubov. In the last round Nepo was paired with Maxim Chigaev and took a pragmatic decision to draw barely after 8 moves. Karjakin met his doom in the encounter with Dubov and his setback allowed Nepo to come ahead of him by half point and win the championship. In this issue you would find a video commentary, "Zug für Zug" ("Move by Move") by Martin Breutigam on his decisive encounter with Karjakin.
The game itself is familiar to readers of the News Page here. I am appending the score by way of reminder:
There are also other games from this championship games annotated by players, Vladimir Fedoseev, Nikita Vitiugov and Maxim Matlakov.
Dubov weaves magic
It was the Dubov-Karjakin encounter from this championship that made waves in the chess world. A number of grandmasters have offered detailed commentaries on the game. In his video in this issue Danny King offers a perspective on the opening of the game and a road map for both White and Black. As for the game itself, Daniil Dubov himself has annotated it in New in Chess Magazine and also the Russian periodical, 64 шахматное обозрение ("64 Chess Review").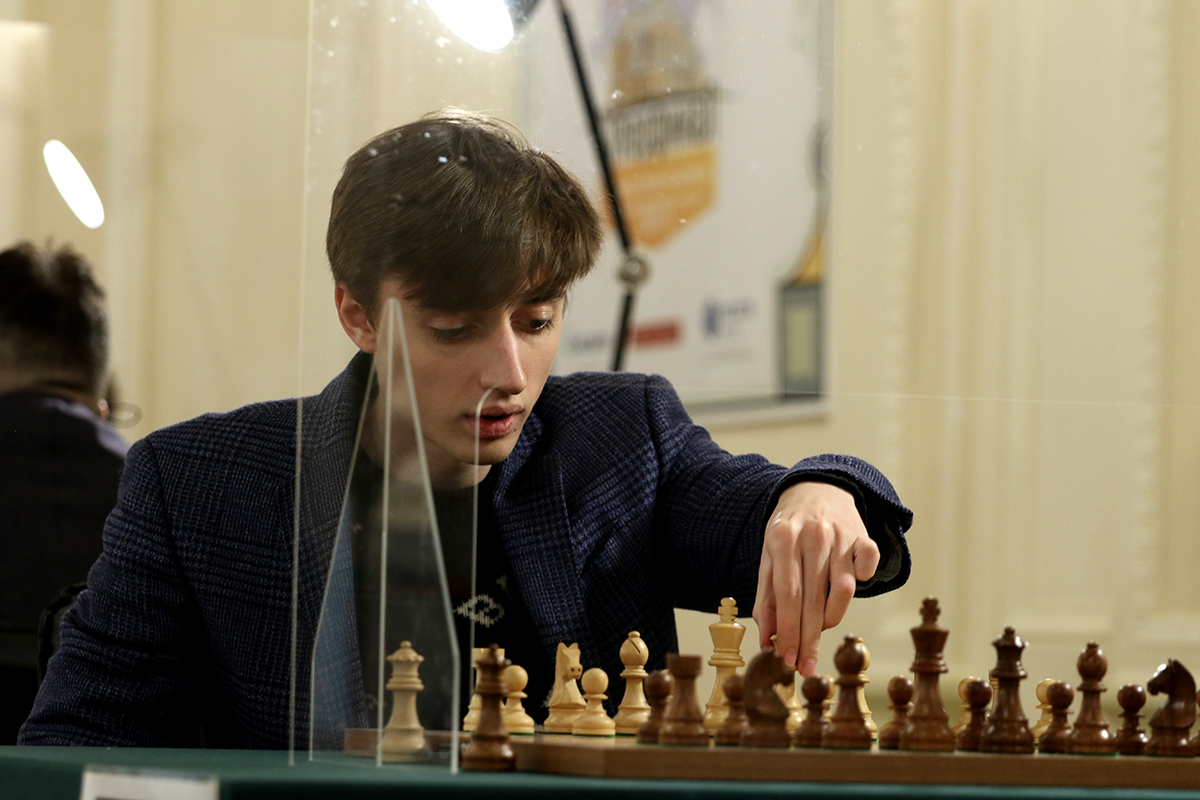 Daniil Dubov | Photo: Eteri Kublashvili
Anyone reading it would be captivated by the sheer exuberance of the young talent's play and astonishing analysis. However, it's also important to remain objective and see what you can find for yourself and how more qualified judges view the critical moments in the game.
A "crazy" game played right in the spirit of Tal!
It would not be amiss to mention that Dubov attributes the credit for his opening preparation in this game to his second, Sasha Riazantsev.
Wesley So prevails over Carlsen
The Skilling Open Tournament held online at the end of 2020 had quite a few surprises in store for both the players and fans. Main contenders like Aronian, Nakamura and Nepomniachtchi were all eliminated to pave way for a mini-match between grandmaster Magnus Carlsen and Wesley So. How the modest American grandmaster prevailed over the world champion is a story in itself. In this issue you would find their decisive encounter annotated by Wesley So himself.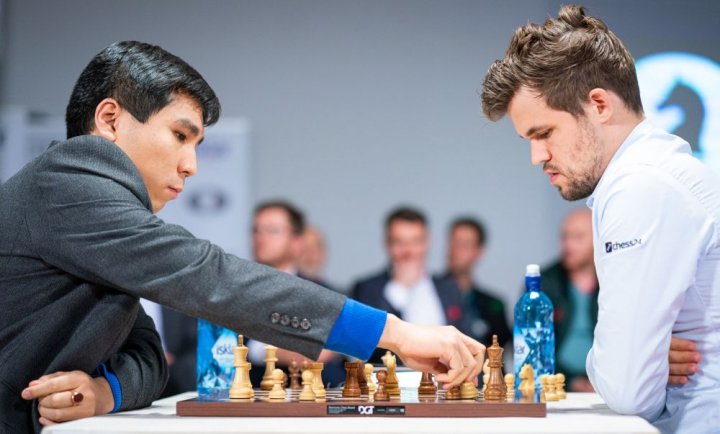 Wesley So crossing swords with Carlsen in Fischerrandom World Championship 2019 | Photo:Lennart Ootes
If Magnus fans are disappointed by such occasional setbacks, they should think of the old adage, "Form is temporary and class is permanent!" They are otherwise in for a treat in this issue. There are as many as 22 games by young Magnus in this issue, all deeply annotated by grandmasters.
There are three opening videos and as many as eleven opening surveys ranging from the Alekhine's Defence to the English Opening. For now I would like to single out the surveys on the French Winawer and QGD Exchange Variation 6.Bf4 for special mention.
Besides opening surveys, this issue has standard features on tactics, strategy and the endgame.
Endgame in depth
The last of them deserves a special mention. Thorsten Cmiel offers an instructive lesson on the ending of rook and bishop versus rook. Karsten Müller analyses endgames from Tata Steel and Skilling Open Tournaments.
Regular readers of ChessBase News Page are aware of his discussion on historic endgames in which a number of players participated. The astonishing results of these interactions are presented in the column, "Readers write" here.
The main database of the issue has 413 recent games of which 25 are deeply annotated.
Commentators include Anish Giri, Van Foreest, Jan Duda and Romain Edouard among others.
It may be noted that there are more annotated games in the sections on opening theory and training. Well, practice makes perfect
Links
We use cookies and comparable technologies to provide certain functions, to improve the user experience and to offer interest-oriented content. Depending on their intended use, analysis cookies and marketing cookies may be used in addition to technically required cookies.
Here
you can make detailed settings or revoke your consent (if necessary partially) with effect for the future. Further information can be found in our
data protection declaration
.
Pop-up for detailed settings
---
We use cookies and comparable technologies to provide certain functions, to improve the user experience and to offer interest-oriented content. Depending on their intended use, cookies may be used in addition to technically required cookies, analysis cookies and marketing cookies. You can decide which cookies to use by selecting the appropriate options below. Please note that your selection may affect the functionality of the service. Further information can be found in our privacy policy.