by Jonathan Speelman
3/7/2021 – In this week's column, Jon Speelman looks deeply into "a real fire fight" in which 18-year-old Arseniy Nesterov came out on top after a terrific battle. In the game, the aggression was mutual and included extended hand-to-hand fighting!
---
ChessBase 16 – Mega package Edition 2021

Your key to fresh ideas, precise analyses and targeted training!
Everyone uses ChessBase, from the World Champion to the amateur next door. It is the program of choice for anyone who loves the game and wants to know more about it. Start your personal success story with ChessBase and enjoy the game even more.
A real fire fight
[Note that Jon Speelman also looks at the content of the article in video format, here embedded at the end of the article.]
When things kick off in a game of chess, the explosion generally lasts for just a few moves — or at least, without any real evidence, that's my impression. But there are occasional games in which the violence runs and runs.
When this does occur, the most common scenario is probably a long attacking battle in which one player aims blows at the other's head and the other finds heroic ways to defend.
But sometimes the aggression is mutual with extended hand-to-hand fighting, and today's game is very much in this mould. It comes from the final round a week ago of the Moscow Open, which was won on tiebreak by Ivan Rozum ahead of six others.
One of the six was 18-year-old Arseniy Nesterov, who came out on top after a real fire fight!
16.d5! This and the next move scream out to be played to destabilise Black before his queenaside attack lands — 16…exd5 17.e6!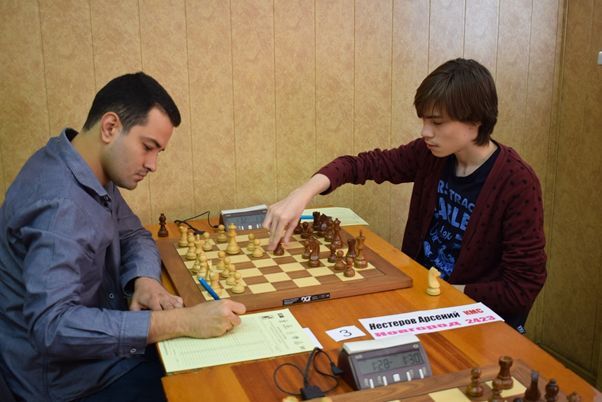 Arseniy Nesterov (right) at the 2019 Voronezh Masters — here facing IM Christian Rios
To finish up, a small tactical position I thought of earlier in the week. It's fairly banal, but carries a small twist.
[embedded content]
---

How to play the Ruy Lopez with Qe2
To avoid theory battles in well-known lines against Ruy Lopez (Berlin, Open Variation or the Marshall Attack), Sergey Tiviakov invites you into the world of an extraordinary early queen move for White: Qe2 – elegant, effective and easy to learn!
---
Links
We use cookies and comparable technologies to provide certain functions, to improve the user experience and to offer interest-oriented content. Depending on their intended use, analysis cookies and marketing cookies may be used in addition to technically required cookies.
Here
you can make detailed settings or revoke your consent (if necessary partially) with effect for the future. Further information can be found in our
data protection declaration
.
Pop-up for detailed settings
---
We use cookies and comparable technologies to provide certain functions, to improve the user experience and to offer interest-oriented content. Depending on their intended use, cookies may be used in addition to technically required cookies, analysis cookies and marketing cookies. You can decide which cookies to use by selecting the appropriate options below. Please note that your selection may affect the functionality of the service. Further information can be found in our privacy policy.