by Carlos Alberto Colodro
5/28/2021 – Potentially Magnus Carlsen and Ian Nepomniachtchi will meet in the final of the FTX Crypto Cup as both contenders to the World Championship advanced to the semifinals after beating their rivals in blitz tiebreakers. Carlsen will face Teimour Radjabov in the semis, while Nepomniachtchi will play an undefeated Wesley So. | Photo: Lennart Ootes
---
ChessBase 16 – Mega package Edition 2021

Your key to fresh ideas, precise analyses and targeted training!
Everyone uses ChessBase, from the World Champion to the amateur next door. It is the program of choice for anyone who loves the game and wants to know more about it. Start your personal success story with ChessBase and enjoy the game even more.
Carlsen and Nepo might meet in the final
Shortly after we found out Ian Nepomniachtchi will be Magnus Carlsen's next challenger to the World Championship, the two contenders to the highest title in chess might face each other in a direct rapidplay match. None of them had it easy in the quarterfinals of the FTX Crypto Cup though, as they only made it through in blitz tiebreakers after exchanging blows with their rivals in the two-set rapid matches. Since they are on opposite sides of the bracket, in case both win or both lose they will meet either in the final or in the match for third place.
Carlsen and Nepo will face two solid players who come from prevailing in the quarterfinals by showcasing their ability to coldly calculate when to play it safe and when to go for the kill. Teimour Radjabov drew seven times in his match against Anish Giri, which meant his victory in game 4 of the first set got him a ticket to the semis, while Wesley So has yet to lose a game in the event — he needed only seven games to knock out Maxime Vachier-Lagrave, which means his undefeated streak has extended to 22 games since the prelims.
After a fair share of good luck helped him knock out Fabiano Caruana, Nepomniachtchi jokingly commented once he found out he will play So in the final:
Eight draws are coming!
Should we believe him? He will certainly be tempted to end his opponent's unbeaten streak!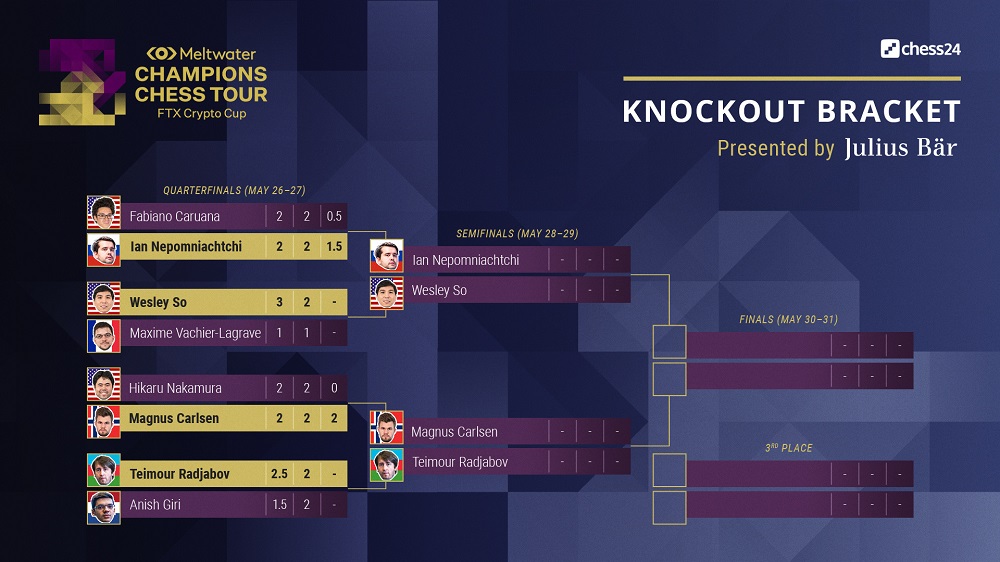 Click to enlarge
Carlsen* 2 – 2 Nakamura
After four decisive games, all favouring the white player, on day 1, Carlsen and Nakamura kicked off the day trading blows with the black pieces. Game 2 was a sharp struggle, with Naka failing to find the most trying continuation in a critical middlegame position.
The American's 25.b5 was not a grave tactical mistake by any means, but it gave his opponent a chance to regroup along the dark squares on the queenside. Instead, keeping the tension with 25.a6 would have forced Carlsen to find a deeper plan to untangle in a complex position.
Soon after, Black had already grabbed the initiative, and the world champion did not hesitate to simplify into a superior endgame.
36…Qf1+ 37.Qxf1 gxf1Q+ 38.Kxf1 and Black started to push his pawn mass in the centre. Good technique by Carlsen gave him a 49-move win to level the overall score.
Games 3 and 4 finished drawn, which meant the match would be decided in tiebreaks. In the blitz phase, Nakamura faltered early on, and Carlsen was ruthless in making the most of his opponent's mistakes. The world champion won with both colours and moved on to the semis.
Select an entry from the list to switch between games
Nepomniachtchi* 2 – 2 Caruana
Caruana came from showing great chess to win the preliminaries, and in fact losing his match to Nepomniachtchi had all to do with his inability to convert strong positions into victories, especially in the second set of the match. Nepo later confessed:
I think I was losing in every game today.
Remarkably, after a tough struggle in game 2, Caruana went for a perpetual check in what had become a completely winning queen endgame once his opponent blundered on move 59.
White's 60.Kh2 was a losing mistake, as it allowed 60…Kxh4, and after 61.Qe7+ Black has 61…g5 winning — 62.fxg5 Qf2+ 63.Kh1 Kh3, for example. Instead of blocking with the pawn, however, Caruana went for 61…Kh5 and allowed a triple repetition with the queen giving checks from e7 and e3.
All four rapid games in the second set finished drawn, with Caruana also failing to score from a clearly better position in game 3. Naturally, in the blitz tiebreakers, it was Nepo who prevailed, as his opponent was probably demoralized after realizing what he had missed.
Radjabov 2 – 2 Giri
A fully pragmatic approach is serving Radjabov well in this format. The Azerbaijani won the first set against Giri and signed two 15-move draws with the white pieces on Thursday. Giri fully relied on his games with white. In both cases, the contenders reached rook endgames, with the Dutch star failing to calculate precisely in what actually was a winning position.
As Karsten Müller notes in his annotations (see below), "exchanging into a pawn endgame requires great care". Here, Giri needed to keep the rooks on the board by playing 46.Rc8, since Black's pieces are too passive and will not be able to defend all the pawn weaknesses in the long run. Instead, White entered the pawn ending with 46.Rxe6+, only to find out all too late that his opponent was just in time to force a draw.
In game 4, it was Radjabov who got a slight edge in another ending, but a draw was enough for him to reach the semifinals. GM Müller also took a more in-depth look into that endgame — go through his instructive annotations in the replayer below!
So 2 – 1 Vachier-Lagrave
This one the only one-sided match in the quarterfinals, with So scoring wins in games 3 and 4 of the first set and securing a ticket to the semifinals after beating his rival once in Thursday's second mini-match.
The Filipino-born grandmaster later explained:
I don't think he was able to play his best in our match today. I think compared to the match we played three months ago he was not able to put much pressure with the white pieces. […] I learned from my mistake, which is not to play 1.e4 against Maxime.
Will So manage to keep his excellent run against the ever-dangerous Nepomniachtchi?
Links
We use cookies and comparable technologies to provide certain functions, to improve the user experience and to offer interest-oriented content. Depending on their intended use, analysis cookies and marketing cookies may be used in addition to technically required cookies.
Here
you can make detailed settings or revoke your consent (if necessary partially) with effect for the future. Further information can be found in our
data protection declaration
.
Pop-up for detailed settings
---
We use cookies and comparable technologies to provide certain functions, to improve the user experience and to offer interest-oriented content. Depending on their intended use, cookies may be used in addition to technically required cookies, analysis cookies and marketing cookies. You can decide which cookies to use by selecting the appropriate options below. Please note that your selection may affect the functionality of the service. Further information can be found in our privacy policy.