by Johannes Fischer
3/8/2021 – Andrew Martin is an International Master and a professional chess trainer with a lot of experience. In an interview Martin talks about The Grünfeld Formula, his new ChessBase DVD, his own career, and gives advice how to help players who are new to the game. Enjoy! | Photo: John Upham
---
The Grünfeld Formula

Naturally, a universal approach using …Nf6, …g7-g6 and …d7-d5 as the base would be very useful for players of all classes, saving time and energy and promising a fluid, dynamic position.
Dear Andrew, you are an International Master, a professional chess trainer, and you have published a large variety of DVDs and books about all areas of chess. Do you still remember when and how you learned to play chess?
The inspiration to play chess came from playing with my father, who was my only opponent as a child up to the age of 11, when one could go on join an adult club.
How did you get better? Did you study books, did you play a lot and did you have a trainer?
There was no chess in school and certainly no coaching. My Dad wasn't a strong player at all, but it was the encouragement he gave me that helped my to carry on.
Thus, I was entirely self-taught. I was further inspired my my maths teacher at grammar school, who was a good player.
What fascinated you about the game and what still fascinates you?
I think it was the depth of chess which fascinated me and still does. Even in our current computer era we are still learning new things about the game.
Did you have a favourite book and did you have a favourite player, a role model?
I grew up in the Fischer era and so my favourite book has to be My Sixty Memorable Games. I've lost count of the times I have played through all the games in this book.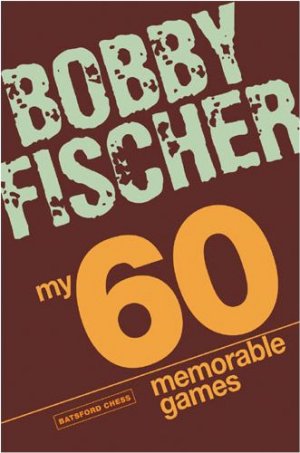 A classic: Bobby Fischer, My 60 Memorable Games

Master Class Vol.1: Bobby Fischer
No other World Champion was more infamous both inside and outside the chess world than Bobby Fischer. On this DVD, a team of experts shows you the winning techniques and strategies employed by the 11th World Champion.
Grandmaster Dorian Rogozenco delves into Fischer's openings, and retraces the development of his repertoire. What variations did Fischer play, and what sources did he use to arm himself against the best Soviet players? Mihail Marin explains Fischer's particular style and his special strategic talent in annotated games against Spassky, Taimanov and other greats. Karsten Müller is not just a leading international endgame expert, but also a true Fischer connoisseur.
In 1984 you became an International Master. How did that feel?
I was pleased to become an IM in 1984 and should really have gone on to become a GM. Why did I not do this? I guess I could make all the excuses under the sun, but in the end it boils down to whether you are good enough and whether you really want it. I guess I failed on both counts. I have a character flaw in that I dislike losing and don't get much of a kick out of winning. Training, teaching and trying to help others suits me much better.
Luckily, I am pretty good at teaching.
Which game (or games) from your long career do you remember particularly fondly?
I do not have a clear favourite but there a number of games that evoke fond memories.
When you started to play chess, computers did not yet play a big role in chess. Today, they are stronger than any human, and databases and the internet allow access to a wealth of information, while you can play online 24/7 against opponents from all over the world. However, even experienced players find it difficult to cope with that amount of information and possibilities. What do you tell beginners, aspiring players and your students about the advantages and disadvantages of the computer and the internet?
The chess world has changed dramatically thanks to the influence of computers. Standards have risen sky-high. The opportunity to become really strong is now greater than it ever has been. You can indeed play chess 24/7 online and practise and train with powerful electronic partners.
Nevertheless, my advice to players is the same as it ever was: play for the enjoyment of the game. If you are not enjoying chess, for whatever reason, take a break until your desire returns. If you stick to that rule, chess becomes a lifelong gift.
The Netflix series "The Queen's Gambit" has caused a worldwide surge of interest in chess. How can the chess community help newcomers to learn and to enjoy the game?
There are a number of ressources, e.g. the classic Fritz & Chesster program has time and again proven to be helpful to beginners.
But the English Chess Federation is also developing a set of useful resources for newcomers to use. I wrote a couple of booklets, free to download, that may be of particular interest. For newcomers I recommend An Introduction to Chess | Booklet One for improvers there is An Introduction to Chess | Booklet Two.
You are a prolific author and you just published a new ChessBase DVD, The Grünfeld Formula. What is this DVD about?
The Grünfeld Formula is an attempt to give club players a Black repertoire against all openings apart from 1 e4. By using a set-up based on the moves …g6, ..Nf6 and …d7-d5, Black will always come out of the opening with a playable, active, fluid position without having to think too hard and learn mountains of theory.
However, I don't actually cover the Grünfeld itself (1.d4 Nf6 2.c4 g6 3.Nc3 d5), as this would duplicate other ChessBase DVDs.
To conclude: What advice do you give to players who are new to the game and who would like to get better?
See above: I would tell them to learn to love the game. If you genuinely like chess and enjoy playing, you have made it to the top!
Thank you for the interview!
Links
We use cookies and comparable technologies to provide certain functions, to improve the user experience and to offer interest-oriented content. Depending on their intended use, analysis cookies and marketing cookies may be used in addition to technically required cookies.
Here
you can make detailed settings or revoke your consent (if necessary partially) with effect for the future. Further information can be found in our
data protection declaration
.
Pop-up for detailed settings
---
We use cookies and comparable technologies to provide certain functions, to improve the user experience and to offer interest-oriented content. Depending on their intended use, cookies may be used in addition to technically required cookies, analysis cookies and marketing cookies. You can decide which cookies to use by selecting the appropriate options below. Please note that your selection may affect the functionality of the service. Further information can be found in our privacy policy.