by Carlos Alberto Colodro
4/10/2021 – A sole leader has emerged after 10 rounds in the Polgar Challenge for young stars. Praggnanandhaa is leading the standings table on 8½/10, a half point above Nodirbek Abdusattorov and Christopher Yoo. On day 2, Kazakhstani IM Dinara Saduakassova abandoned the competition due to continual issues with her internet connection. | Photo: León Masters
---
ChessBase 16 – Mega package Edition 2021

Your key to fresh ideas, precise analyses and targeted training!
Everyone uses ChessBase, from the World Champion to the amateur next door. It is the program of choice for anyone who loves the game and wants to know more about it. Start your personal success story with ChessBase and enjoy the game even more.
Eight wins in a row
Praggnanandhaa Rameshbabu, also known as Pragg, obtained his third GM norm in Ortisei, a small town of northern Italy back in June 2018. He would later be confirmed as India's 52nd grandmaster. As of today, Pragg is the fourth-youngest player ever to achieve the GM title, behind Sergey Karjakin, Gukesh D and Javokhir Sindarov.
The 15-year-old kicked off the tournament with a loss against an even younger opponent, Russian IM Volodar Murzin. In hindsight, since apparently a dominant score will be needed to win the tournament, this loss might have gravely hurt the Indian's chances to get the title. However, his results from that point on have been exceptional — Pragg won every single game in rounds 2-9 and drew Awonder Liang in Friday's last game to go into the final 9 rounds of the event as the sole leader.
Pragg showed great practical skills throughout, fighting stubbornly even in worse positions. His victory in round 9, however, had nothing to do with fighting spirit, as he was awarded a full point after his opponent, Dinara Saduakassova, announced that she would not continue playing due to problems with her internet connection. The Kazakhstani forfeited the last three games of the day and later apologized for the inconvenience on Instagram. She explained:
During all seven games that I played I've faced internet problems, and I've tried many times, but nothing helped. […] I want to say sorry to all chess fans and to the organizers — they are doing really a great job.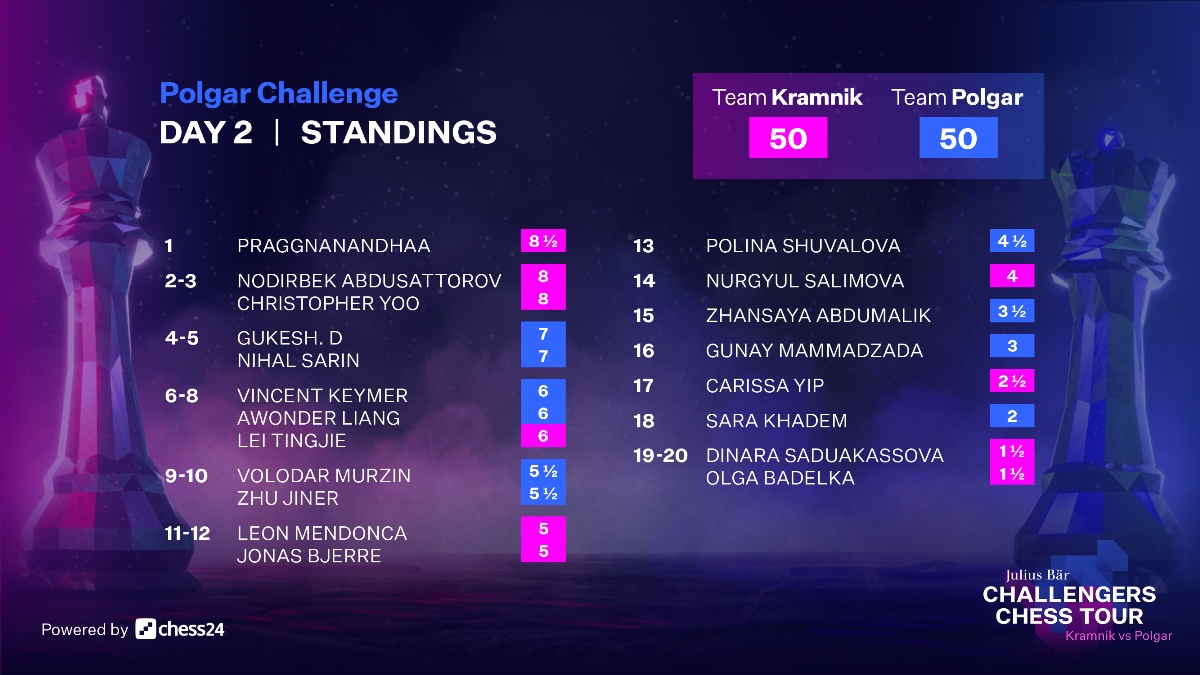 Click to enlarge
Twice was Pragg in real trouble on Friday, but he nevertheless obtained 1½ points from these two tough encounters to remain atop the standings table. Against Liang, who turned 18 on day 2 of the event, the Indian prodigy held on tight in a position with rook and knight against queen and a dangerous passer on the a-file. Liang faltered on move 41:
It was not the right time for Black to push his passer. Liang's 41…a4 gave way to 42.Re4, the saving move. Black cannot save his pawn, as the queen is also defending the bishop on e7 — 42…Qa3 43.Nb1 Qd6 44.Rxa4. White's pieces can now defend his king without worrying about a new queen showing up on the opposite flank. A draw was agreed six moves later.
In round 8, it was Nurgyul Salimova who could have put a stop to Pragg's winning streak:
White's 43.Bf3 was a massive blunder, as it allowed 43…Ng6 and the queen is trapped. Salimova did not find the retreating move — a tough manoeuvre to find in a blitz game, after all — and eventually lost the game.
The two players in the chasing pack have been playing impressive chess throughout. Yesterday we wrote about Yoo, the youngest participant in the field. Today, let us praise Abdusattorov's performance. The Uzbek prodigy — who, at 9, defeated two GMs at the Georgy Amazov Memorial — has shown a good mix of technical prowess in quiet positions and tactical awareness to find killer shots when the situation calls for it.
In round 6, he got the better of Danish GM Jonas Buhl Bjerre. Our in-house specialist Karsten Müller analysed the endgame:
Abdusattorov won four and lost one on day 2, but could have finished the day with a perfect 5/5 had he made the most of his superior position against Leon Mendonca in round 9:
Black has a dominating position with the bishop pair and an annoying pawn on e3. Moreover, two white pawns are hanging. The first capture that comes to mind — as it gives a check — was the correct way to go: 49…Bxb5+ 50.Nxb5 Rxb5 and Black has two connected passers on the queenside. However, Abdusattorov chose 49…Rxd4, allowing White to recover with 50.Bc1 Bd7 and 51.Bxe3.
Mendonca would go on to score a 96-move victory. Two rounds earlier, the Indian had saved a draw in a tricky endgame against Zhansaya Abdumalik. Karsten Müller took a closer look:
---
---
All games
Links
We use cookies and comparable technologies to provide certain functions, to improve the user experience and to offer interest-oriented content. Depending on their intended use, analysis cookies and marketing cookies may be used in addition to technically required cookies.
Here
you can make detailed settings or revoke your consent (if necessary partially) with effect for the future. Further information can be found in our
data protection declaration
.
Pop-up for detailed settings
---
We use cookies and comparable technologies to provide certain functions, to improve the user experience and to offer interest-oriented content. Depending on their intended use, cookies may be used in addition to technically required cookies, analysis cookies and marketing cookies. You can decide which cookies to use by selecting the appropriate options below. Please note that your selection may affect the functionality of the service. Further information can be found in our privacy policy.