by Joshua Doknjas
5/10/2021 – The Candidates Tournament 2020/2021 brought a wealth of interesting games and interesting novelties. After all, the players had more than one year to prepare for seven games. In his two-part reflection on the Candidates the Canadian FM Joshua Doknjas takes a close look at the most important theoretical developments in the Candidates and discusses various strategies of preparation. | Photo: Tournament winner Ian Nepomniachtchi | Photo: Lennart Ootes
---
Opening Encyclopaedia 2021

The comprehensive theoretical reference work for beginners and pros alike. Over 1,200 opening articles with professional analyses, 60 opening videos (total running time: over 22 hours), 7,127 opening surveys, opening tutorials for beginners.
The two clear leaders going into the second half of the 2020-21 FIDE Candidates Tournament were Maxime Vachier-Lagrave and Ian Nepomniachtchi, who each had 4.5/7 points (+2). Caruana had 3.5/7 and immediately put himself in striking distance of first place by using a powerful new opening idea against MVL in Round 8. Giri also started with 3.5/7 and was in contention for first place after he began an impressive winning streak in Round 9. The second part of this Candidates reflection focuses on three main topics: Caruana's deep Najdorf preparation against MVL, Giri's remarkable performance in the second half, and Nepomniachtchi's pragmatic play throughout the event.
Fireworks in the Poisoned Pawn Najdorf
Carlsen remarked before Round 8 that MVL's two games with Black against Caruana and Ding Liren in Rounds 8 and 9 respectively would be extremely critical for his chances of winning the event. Naturally, the matchup between Caruana and MVL was also extremely important for Caruana's tournament situation because a win would put him in shared second place. Caruana decided to unleash a shocking piece sacrifice on move 18 in the Poisoned Pawn Najdorf. MVL found one of the better defensive tries and nearly calculated his way out of trouble, but unfortunately faltered in the endgame and was forced to defend tediously for the rest of the game.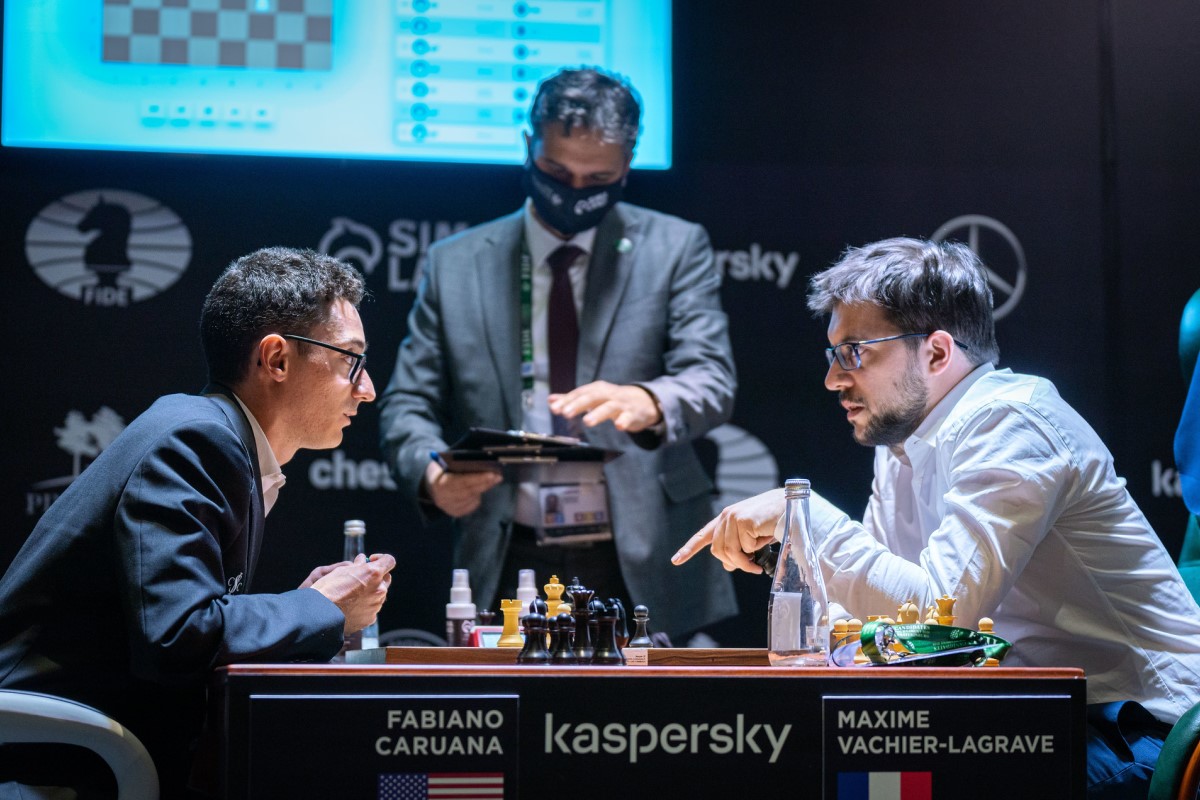 Fabiano Caruana came up with a stunning novelty in a heavily analysed line | Photo: Lennart Ootes
Giri's Winning Streak
Between Rounds 9 and 12, Giri scored an impressive 3.5/4 to nearly catch Nepomniachtchi in the lead. Nepomniachtchi was also quite successful in these rounds, winning games against Kirill Alekseenko and Wang Hao.
Standings after Round 12
Despite Giri's winning streak, it became clear after Round 12 that he may need to increase his +3 score and play for +5(!) by beating both Grischuk and Alekseenko in the final two rounds to surpass Nepomniachtchi, as sharing first was not an option.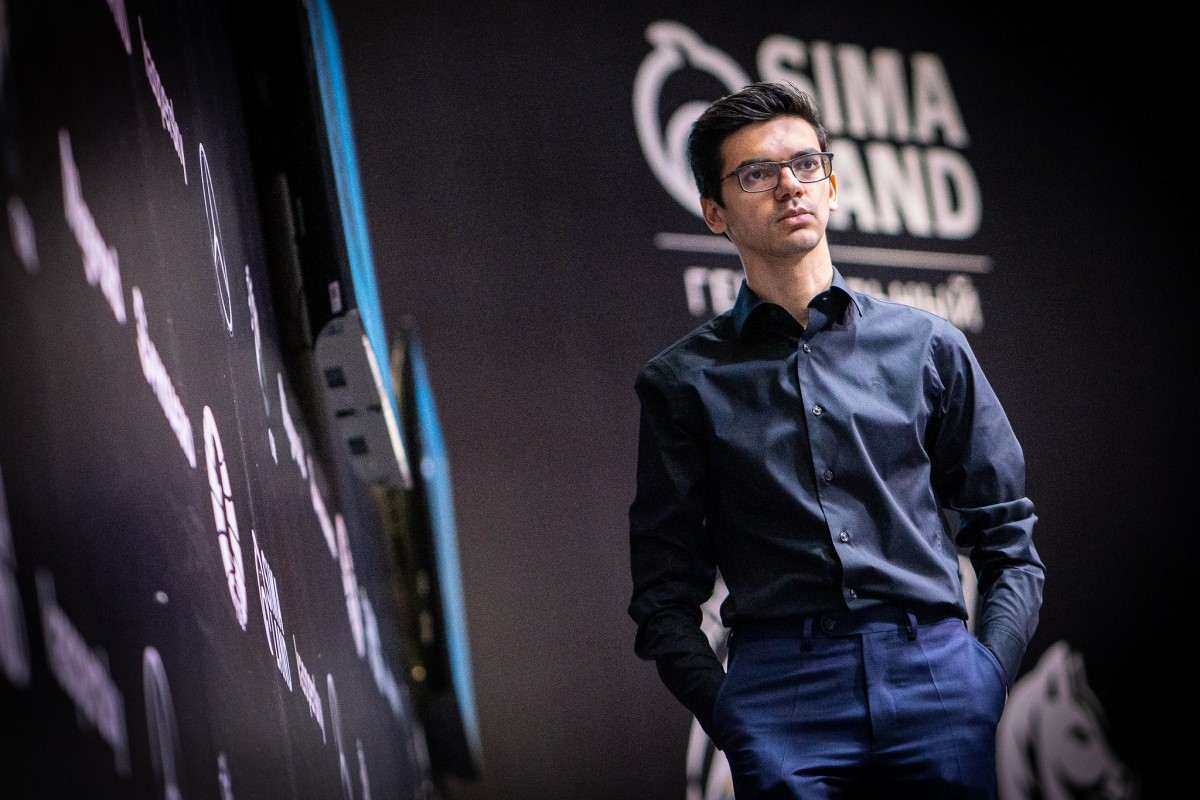 Anish Giri | Photo: Lennart Ootes
Due to Nepomniachtchi's first round victory over Giri (see the start of my previous article), Nepomniachtchi would have a better tiebreak in the event of shared first place with Giri. To show how unusual Giri's tournament situation was, Caruana won the Candidates in 2018 with +4 (but could have drawn the final game and won with +3). Karjakin won in 2016 with +3 (but also could have drawn the final game and won with +2). Unfortunately for Giri, he lost to Grischuk in Round 13 after trying to unbalance the game with an unusual Queen's Indian setup. Meanwhile, Nepomniachtchi held off MVL's last attempt at fighting for tournament victory, which meant that he had won the tournament with a round to spare.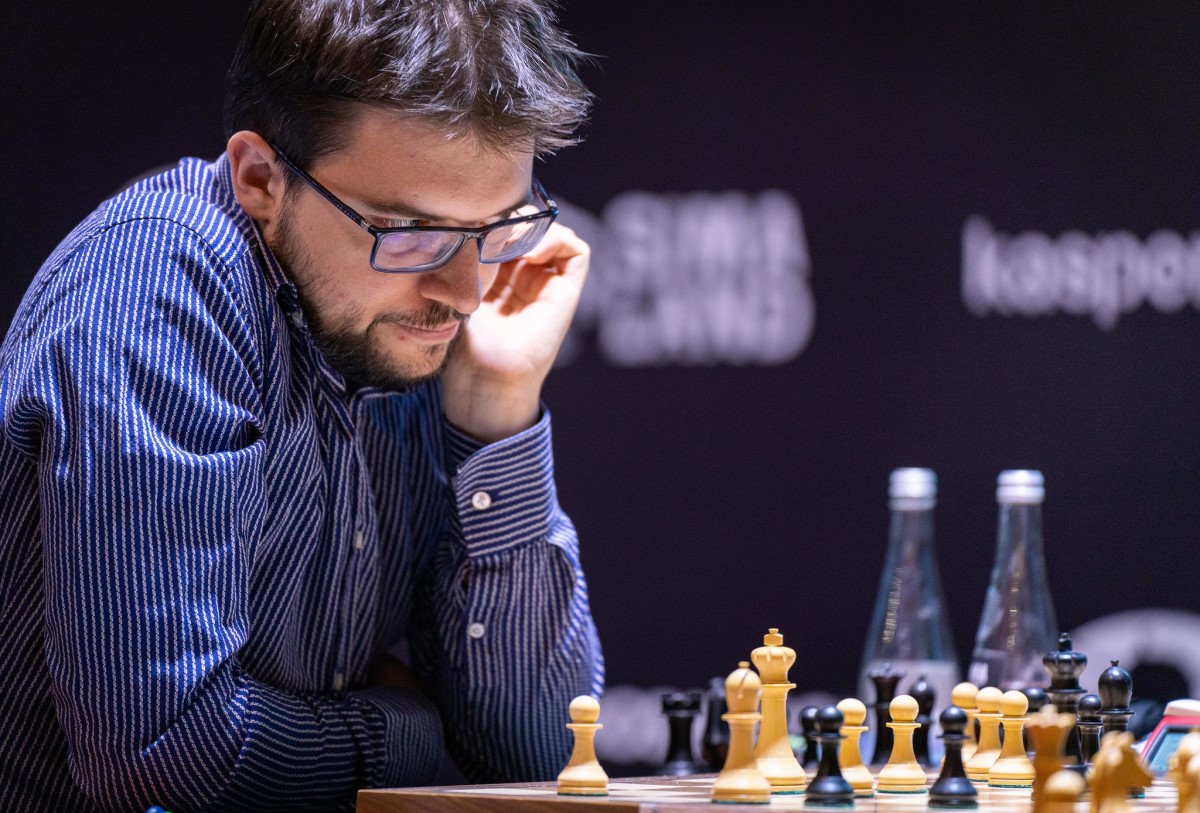 Maxime Vachier-Lagrave | Photo: Lennart Ootes
Let's take a look at Giri's three wins between Rounds 9 to 12 and see how he was able to obtain unbalanced, fighting positions right out of the opening.
Nepomniachtchi's Pragmatic Preparation
Nepomniachtchi's Candidates preparation was much different from the approaches we have seen so far. He did not have the chance to unleash any major opening discoveries, like Giri or Caruana, but was instead on the receiving end of preparation several times (see the previous article). Two of his main strengths throughout the event were responding precisely to his opponent's preparation and taking advantage of opportunities as they arose.
The first two games analyzed below (Nepomniachtchi – Wang Hao from Round 5 and Nepomniachtchi – Ding Liren from Round 6) contain several clear similarities: Nepomniachtchi finds a small opening idea with the White pieces, obtains a slight edge, and puts his opponent under pressure by playing quickly and confidently.
In the second half of the tournament, Nepomniachtchi played very pragmatically, drawing quickly with the White pieces against two of his main rivals: Giri (Round 8) and Caruana (Round 11). He also seized the opportunities given to him by winning Round 10 against Alekseenko and Round 12 against Wang Hao. His game with Wang Hao is the one win that we will not analyze, in which Nepomniachtchi surprisingly played the Petroff with Black and managed to exploit his opponent's mistakes in a balanced endgame.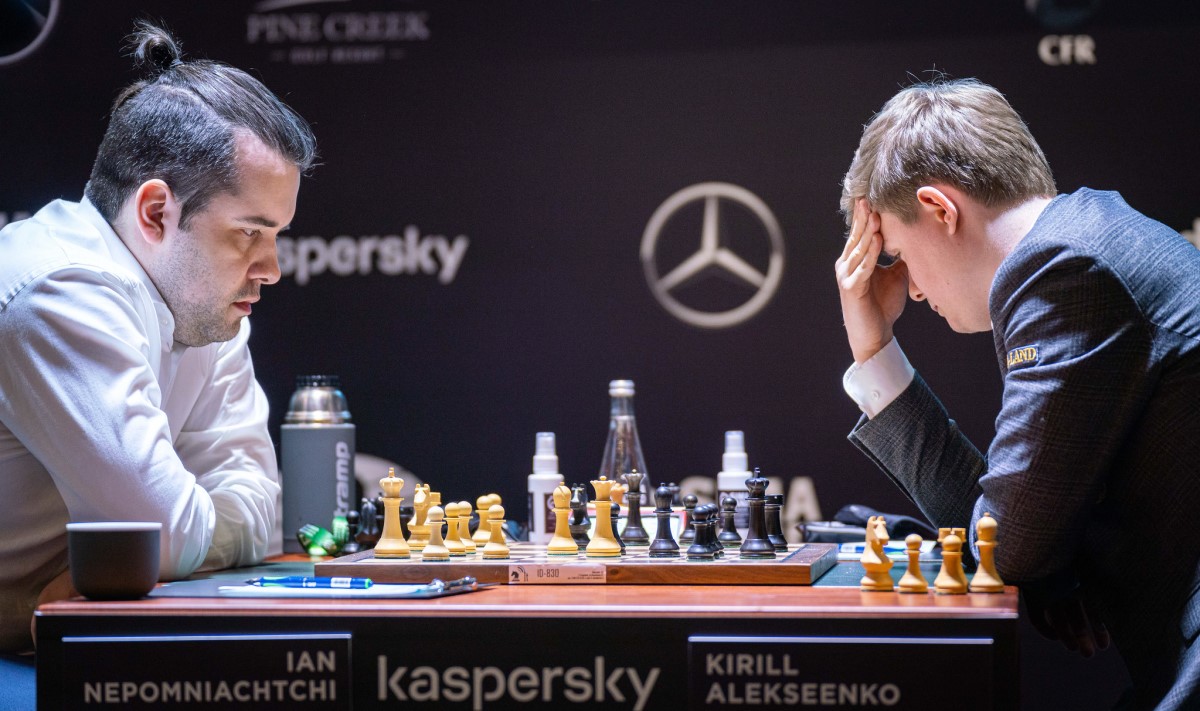 Ian Nepomniachtchi vs Kirill Alekseenko | Photo: Lennart Ootes
Different Approaches to Preparation
In the first part of my Candidates reflection, we looked closely at deep, original preparation. Our discussion continued at the start of this article, where Caruana used an impressive piece of home analysis against MVL's Najdorf. At first, it seemed that MVL had managed to successfully navigate through the complications, but he faltered after the exchange of queens and wasn't able to defend the difficult endgame.
Besides deep preparation, we examined two other approaches to opening preparation which were both driven by the tournament situation. Giri required many wins in the second half to surpass Nepomniachtchi, so he prepared lines to unbalance the position and get fighting chances right out of the opening. Importantly, the opening positions that Giri got between Rounds 9 and 12 avoided theoretical pathways, had strategically complicated pawn structures, and were unlikely to fizzle out or simplify into an equal position.
Meanwhile, Nepomniachtchi needed a modest plus score in the second half, which led to him playing very pragmatically. He made quick draws with White against Giri and Caruana, and took his chances when they arose against Alekseenko and Wang Hao. Although his results were good in the second half, I believe that Nepomniachtchi's play in the first half of the event was a much better demonstration of his strengths. As we saw in the previous article, he responded very well to deep preparation by Giri and Caruana, even managing to overtake the initiative and win against Giri in Round 1.
Nepomniachtchi's wins from Rounds 5 and 6 against Wang Hao and Ding Liren show exactly the type of positions he excels in. In both games, a small opening idea provided him with a risk-free slight advantage and the opportunity to use his speed and calculation abilities to build up the pressure on his opponent. There was no brilliant piece of deep preparation in any of his wins, but he succeeded in getting comfortable positions out of the opening that were well-suited for his strengths.
Links
We use cookies and comparable technologies to provide certain functions, to improve the user experience and to offer interest-oriented content. Depending on their intended use, analysis cookies and marketing cookies may be used in addition to technically required cookies.
Here
you can make detailed settings or revoke your consent (if necessary partially) with effect for the future. Further information can be found in our
data protection declaration
.
Pop-up for detailed settings
---
We use cookies and comparable technologies to provide certain functions, to improve the user experience and to offer interest-oriented content. Depending on their intended use, cookies may be used in addition to technically required cookies, analysis cookies and marketing cookies. You can decide which cookies to use by selecting the appropriate options below. Please note that your selection may affect the functionality of the service. Further information can be found in our privacy policy.